About the Books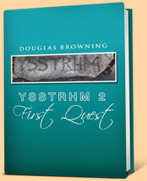 Ysstrhm 2, First Quest
The forces that threaten the Valley are on the move, and only the fledgling Alliance stands in their way.
In this second volume of the Ysstrhm series, young Snydur accepts the burden that has been thrust upon him as a leader of the Alliance. He sets out to scout the enemy's growing influence and, if possible, exact vengeance on the ones who murdered his narshon.
Snydur's quest leads him through one perilous adventure after another. Along the way, he discovers special abilities, and a love that fills and encourages him in the long and costly struggle he must face.
Douglas Browning takes readers back to Snydur's wonderful world of magic and adventure in Ysstrhm 2, First Quest.