About the Books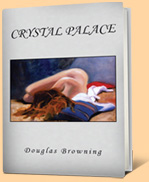 Crystal Palace
Author Douglas Browning returns with the well-loved characters from Design of Darkness as he weaves another intricate web of passion, power, scandal, and deceit. This time, a female detective will strut her skill and charm her way to solve a mysterious case that involves a prominent family.
Deirdre Cash, a gorgeous red head, has always been in the background of the celebrated Detective Merrill "Hock" Hocken. But as soon as she turns from being a helpful assistant to a reliable partner, Deirdre has to learn it all—surveillance, interviewing, shadowing, insurance fraud, and skip-trace. Yet she never has the opportunity to try her hands on a case that might involve a murder, not until a quivering Sarah Cross Posmann approaches her.
Pronounced dead in the hospital after collapsing in her apartment, Cynthia, an attractive young woman who had shared beds with a number of gentlemen, is said to have died of food poising. But her sister Sarah is not at all convinced. She believes that Cynthia's lifestyle was too intriguing that a murder is not a far-fetched conclusion. Amid the mixed emotions of a mourning client, Detective Cash is introduced to what appears to be a complicated case of jealousy and grudge. Turns out, Cynthia was widowed by a rich young man whose mother, Crystal January, disapproves of their relationship. Intertwined between the mother-in-law drama is Drake, Crystal's alluring brother to whom Cynthia allegedly had an affair with.
As Detective Cash probes deeper into the rich family's unconventional saga, she discovers more issues that are even more mysterious. Is Cynthia's death a result of Crystal's long-kept angst? Is it a tragic conclusion to a not so lucrative life of sex and money? Or is the young woman's life more complicated than how it appears it is? Engage in heart-stopping encounters as you unravel the mystery that lies behind the Crystal Palace.