About the Books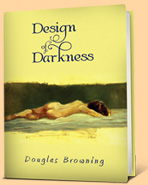 Design of Darkness
Detective Merrill "Hock" Hocken is in for another round of mind-boggling mystery. This time, he is hired to investigate an attractive yet mysterious woman, a task which forces him to delve into the lives of an illustrious political family.
Barney Shook, the eldest son of Mayor Mackenzie, believes that Coral Freedom, his mistress who was at one time also his father's mistress and secretary, is a threat to the political ambitions of the mayor. Throughout a meticulous investigation, Hock quickly clears her. Just when he thought he has no business with the Shooks, a gruesome murder of the mayor's wife instantly made him extend his service.
Rehired to pursue the killer, Hock finds himself entangled with mystery, intrigue, deceit, and violence. Along the way, he becomes distracted by several irresistible women, including Shydra, who proves to be both alluring and infuriating. With a mysterious case made even more complicated by inexplicable characters and erratic twists, Hock doggedly follows the twists and turns of his inquiry with the help of the police and a crime boss in the city. Design of Darkness follows Hock's heart pounding adventures that lead him towards a startling conclusion.